Digital Dozen - Geek Week - Daleks
I am SOOOO stoked to be back doing the Digital Dozen challenge.
Since I did it last, we have added a slew of super talented ladies to the mix and I feel like we really push each other to up our game every month!
So this week, our theme is Geek Week.
Get geeky, cult tv'ed out or whatever flies your nerd bird.
Doing these challenges, I began to realize I am apparently a huge space geek.
Today - my geek out is - DALEKS!
You can bet this week will be full of weird gif's and videos.
Like this one: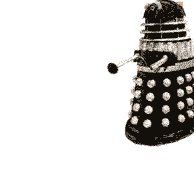 The Daleks are essentially the arch enemy of The Doctor (Yes, I am talking about THAT Doctor - of Doctor Who, the best show on earth thank you). Despite my love of The Doctor, I love the Daleks more! Does that make me a bad person? I can't help it, when they talk I just want to cuddle them:
And then - there is this awesome video:
That one is my fave, because I saw it right when I was getting into Doctor Who and I was so in love with Doctor Nine and Rose. I do still love Rose, but number Ten has grown on me, right as he's about to be regrenerated as I'm currently on Season 4.
So how bout you see MY Daleks now, eh?
So - originally my idea was to do the Cult of Skaro - which is made up of 4 Daleks in an Elite Order if you will. For whatever reason (I think maybe because a couple of them look the same), I scrapped that idea and just decided to do 5 different colored Daleks based on real Daleks.
Hot Ticket Red polish whose name escapes me currently (sorry)
Essie No Place Like Chrome
The black I used for the thumb and the "Gaskets" was Sinful Colors Black on Black.
Then I applied NYC Matte topcoat before applying the studs.
The studs shown here are actually metal stud brads I got from Michaels. They did also carry metal studs I could have applied straight away to my nails, but I liked the brushed metal look of these and there were more color choices in this pack, so I opted for this and pulled the brad legs off each stinking stud. A pack of 300 took me a few hours, but I never have to do it again!
I actually also did these nails with lines going vertically down between the studs like on the actual Daleks, but I liked it less.
Hope you enjoyed Day 1 of Geek Week, there is going to be so much awesome this week from everyone, I can actually feel it - so make sure and visit every single one of these ladies' blogs to check it all out!